Thought Leader. Nature Follower. 
Before Scout Wild, there was Sarah Shadonix, a small-town North-Texas native who grew up surrounded by reasons to love and appreciate the outdoors. She was a farm girl obsessed with the beauty of the wild. With growth. With how delicious things are when they come straight from the ground. And with the idea of working hard to grow something real, and to contribute to the life cycle of nature. Simply put: The farm and the lessons it bestowed were the bedrock of her life's most formative years.    
Eventually, Sarah the farm girl became Sarah, Attorney at Law. She was a fierce, driven litigator, dedicated to doing right and helping people no matter what. She had grown up, she had worked hard, and as an attorney, she achieved goal after goal after goal she set for herself. And it was great.  
But goals and dreams are not the same thing.
Sarah had never stopped dreaming about the farm life, and about the beauty of nature. And over time, she even noticed her fascination begin to evolve—particularly in how she experienced wine (and in the realization that wine is simply nature in a bottle). Before she knew it, she was obsessed. Her appreciation for wine was vast. And her desire to explore it as a career grew.  
Sarah practiced law for 7 ½ years before ultimately accepting a hard truth: Her heart belonged elsewhere. Wine wasn't just some phase or hobby. It felt like the right thing to do for herself and her family.   
So she did a scary thing: She pursued that feeling, leaving behind a world she knew in favor of something different. Something unfamiliar. Something wild.  
And it wouldn't be the last time "doing the right thing," would pay off.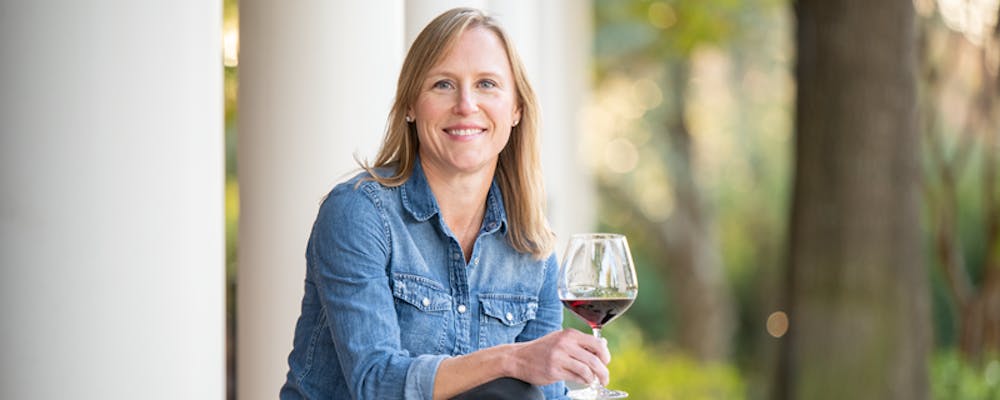 To the Pursuit of Natural. 
It wasn't very long into Sarah's come-up in the wine industry that she made a pretty shocking discovery—several-hundred of them, to be more specific. And these discoveries compelled Sarah to begin seeing the entire industry differently.  
Wine is a beverage grown in nature, and you can taste it in the glass, year-over-year. And Sarah believes that the unpredictable deliciousness of the wine is part of what makes it so special. Winemaking on a more commercial or industrial level, however, doesn't embrace these differences and instead seeks to minimize them. In fact, commercial winegrowing often involves hundreds of artificial pesticides and herbicides as well as synthetic fertilizers in the vineyard, plus hundreds of artificial ingredients and processing aids in the winemaking—all to better commercialize the beverage by maximizing efficiency and increasing profit margins (by increasing yields, reducing risk, eliminating flaws, and creating a level of sameness from vintage to vintage).  
But this isn't Sarah's vibe whatsoever. Wine is an act of agriculture—a beverage that isn't made, but grown. She cares a tremendous amount about protecting that belief, and about preserving the deliciousness that ensues when nature is left to do its thing. 
Luckily, shirking in the face of adversity isn't really Sarah's vibe either. Rather, she saw this as an opportunity to do the right thing for the earth, and for those she loves most. To pursue wine as nature intended, to revel in the wild deliciousness, and to share it with everyone she meets.  
So that's exactly what Sarah did. She got to work immediately, exploring natural winegrowing methods that produce uniquely delicious flavor and restore, rather than deplete, nature. Eventually, she formulated a completely unique winegrowing standard based on what she had learned, called the Clean-Crafted Commitment®. But she didn't stop there.  
Not long after she solidified the standard and launched the world's very first Clean-Crafted™ wine, Sarah and her team began exploring ways to extend the Clean-Crafted Commitment® beyond just the product. Like bottling, through the use of lightweight glass (up to 50% of it is recycled!) and no foil. And supply chain, through the use of undyed craft shippers. And even through sustainability initiatives that directly contribute to the welfare of farms and vineyards around the nation.  
And, Here We Are.
Today, the Clean-Crafted Commitment® is one of the most rigorous winegrowing standards in the world—an ever-evolving promise never to stop doing the right thing for nature. And it's something Sarah, her grower partners, her winemaking team, her home office team, and her field of Independent Consultants are proud to uphold, no matter what.  
And it all started with a leap of faith into the unknown. Scout Wild isn't just a wine; it's the delicious reward for following your heart, and for doing the right thing for the world around you.  
Founder and CEO Awards
Best of Small Business Awards™ – CEO & Entrepreneur of the Year
Dallas100™ Entrepreneur of the Year Award
Inc. Female Founders
Ernst & Young Southwest Region Award Winner
Gold Stevie® Winner for Entrepreneur of the Year - Food & Beverage